On Monday I took Madeline to her school to decorate her locker and learn the combination.
Wed met some of her friends and had a fun time.
She was nervous about having a locker but excited to be in middle school.
I took Benny on a shopping date and let him pick out his own clothes for the first time it was fun to see him pick out the things he liked.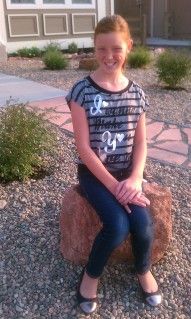 On Wednesday Madeline started her first day of middle school.
She looked so cute in her first day of school outfit.
She is growing up into a beautiful young lady .
Wednesday was Ben's first day of school he is a 3rd grader and he is going to a new school this year.
See the fun T shirt he picked out I guess everyone needs an orange shirt with a jump roping meatball.
Also if you look at the picture of him on the left you can see my shadow.
I like to think that I am always with my kids when they are in school maybe not in the physical scene but the lessons I have thought them.
I don't know why but I still cry every year when I send Ben off to school.
Yesterday was Garrets first day of football practice.
His coaches and peers talked him into playing this year.
Garrets friends love and admire him they cheer him on and are always excited to see him.
I love that he is a good influence and lets his light shine.
His coaches also love him, when he went to get his football gear the other day he went into the locker room and I heard hey Garrett yo Garrett I thought how sweet his friends missed him.
Then when we went to the car and Garret said did you hear all that noce in the locker room when I came in?
I said yes your friends were sure happy to see you.
He grinned and said none of my friends were there that noise was my coaches.
I love that these Men Garrett looks up to love and respect his talent and make him feel so welcomed.
Last but not least today was Mylissa, Garrett and Robbie's first day of school.
I think the only one happy about going to school today was Robbie.
Robbie loves to learn one of his favorite classes is cinematography.
Robbie really wants to be a film director and screen writer like Garage Lucas one day hence the star-wars shirt.
Mylissa looks as cute as a button and likes being social than learning.
Garrett just wants school to be over so he can go to collage and flight school.
I just want to stop time my kids are growing up so fast.