I love a good baked potato soup Its been a favorite of mine for years I have tried many recipes and love things about all of them took the things I loved and came up with my own recipe that I have been using for over 20 years.
The other day I was thinking I would really love to make baked potato soup in the crock pot.
I have seen many crackpot recipes that use hash browns or frozen potatoes and caned creamed soups none of those appeal to me other than the use of a crock pot.
I decided to try it on my own with my baked potato soup recipe I have tweaked and perfected over the years.
I tried it and love it!
INGREDIENTS:
6 large baking

potatoes

, peeled, cut in 1/2-inch cubes
1 large

onion

, chopped
1 quart

chicken broth
3 cloves

garlic

, minced (or pressed) You can also use garlic from a jar if you are in a pinch
1/4 cup

butter
2 1/2 teaspoons

salt
1 teaspoon

pepper
1 cup

cream

or half-and-half

cream
1 cup shredded
Cheddar cheese ( I also like to use Colby Jack)
3 tablespoons chopped fresh

chives
1 cup

sour cream
8 slices

bacon

, fried & crumbled
cheese

, for sprinkling
DIRECTIONS:
Combine first seven ingredients in a large crockpot; cover and cook on HIGH for 4 hours or LOW for 8 hours (potato should be tender).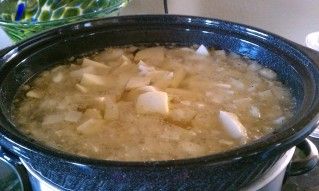 Mash mixture until potatoes are coarsely chopped and soupy is slightly thickened. Stir in cream, cheese and chives.
Top with sour cream,sprinkle with bacon and more cheese.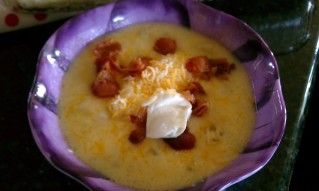 Then enjoy we sure did!