Last night Mrs. Kadie bug sent me this picture of little Boone with his shirt on his head she added a message saying " do you remember a picture of me like this?"
Dale and all my kids started laughing when they saw the picture and said we have a picture of Kadie as a baby looking the same way.
We did not find the shirt picture but we found the bloomer picture.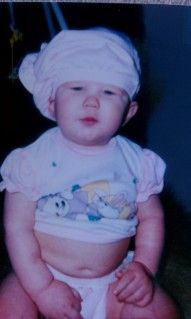 Kadie was about one in this picture.
She was so cute just like her Boone baby.
We love that Kadie sends us lots of pix of our grand baby and we cant wait to see him in November.
PS for all you momma that had baby's in the late 80's early 90's remember the colored diapers.
she is wearing pink ones here but I remember her having ones with roses by LUVS.