You will often hear Ben say Mom can I have liquer, or Mom I really could use a liquer, or mom I need more liquor. If you know what he's talking about you would think he's asking for alchol. What is asking for it is licorice. What he is saying is licker not liquor but to anyone who dose not know what he is talkig about gives me or Ben the strangest look.
I love how an inocent nickname for a tteat can sound like I am raising a drunk.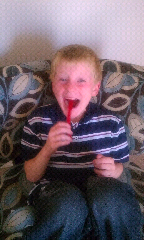 .
Ps My other kids think it's so funny and now call liocorice licker.
You just gotta love them!