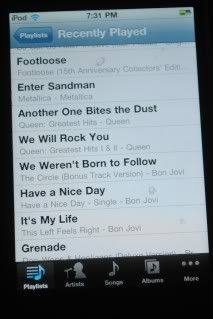 When I work out or run I must have good jams!
These are just some of my favorites they push me to be faster and sometimes not to quit.
I always quicken my pace when Metallica is playing bet you never would guessed me for Heavy metal girl?
No work out is ever complete with out my man Bon Jovi I can do anything while listening to his voice.
Dirty Bit by Black eyed pea is my push it 5 more minutes on the elliptical song right now.
So whats on your work out play list?