Yesterday was such a beautiful day in our little tow.
The sun was shining and it was surprisingly warm.
I opened all my blinds and curtains to let in the beautiful light.
This is the view from my front window!
I love this mountain and will miss this view when we move.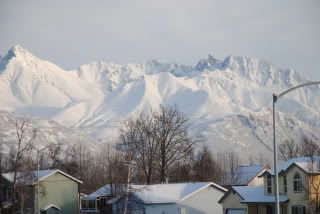 This is the view from the kids window.
We are lucky to have a mountain view out of every window.
I especially love the mountains at dusk they are purple and just magical.
We are totally going to miss this.
Some days I wake up and I don't want to leave my Valley home.
We still waiting for someone to buy our home if that dose not happen we might have to reconsider staying.
We have been giving this alot of thought and prayer lately should we move or should we stay.
My heart is torn at this point.
If we stayed it would mean that Maddy and Ben would get to graduate with the kids they went to kindergarten with the thought of that makes me happy.
If we left we would be by tons of friends and family.
We would be close to Williams grave I would get to visit him on his birthday.
That makes me happy!
Hate not knowing what is going to happen in the next 5 months.
I do have peace that it will all work out and we will all be happy in the end.